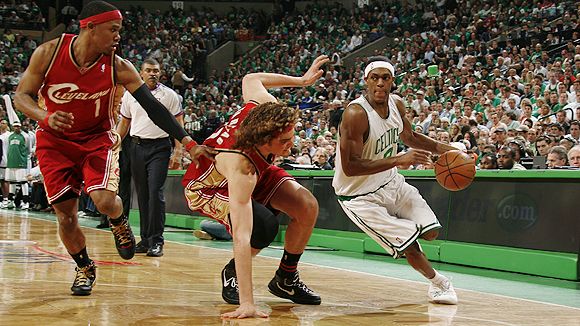 The picture above says it all. The Rajon Rondo show hit Boston last night, and the Celtics 2nd year point guard absolutely stole the spotlight over fantastic games from Paul Pierce and Kevin Garnett.

KG's double-double was as dominating as he has been all season. Even Pierce's voracious D (and team-high 29 points) was a different gear from where he has been at any point in the season- punctuated by a highlight reel dunk off of sweet give n' go with KG in the 4th quarter that really shut the door on the Cavs.

But for my money, I say Rondo's 20/13 points/assists defined this win. Not to mention his defense on Delonte West including a magnificient hustle play to block West's layup following a Celtics turnover (gee, why did we get rid of West and keep Rondo the rookie?). Despite his diminutive size compared to the others on the court, Rondo was a mismatch all night long- his speed and aggressiveness against the plodding Cavs defenders were on display and if he keeps it up, the Celtics might just win their first road game of these playoffs. And not too soon.